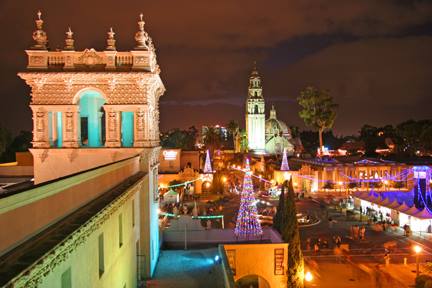 Mark your calendar. This year's annual holiday festival in San Diego's Balboa Park will take place December 7 and December 8, 2018.
Christmas on The Prado has it all – from holiday lights and seasonal music to dancers and tasty winter treats.
The free weekend festival will return for its 41st year with free admission to museums on Friday, Dec. 7 and Saturday, Dec. 8 from 5 p.m. to 9 p.m.
December Nights started in 1978 as part of "Christmas on the Prado" in Balboa Park, a small holiday celebration put together by a dozen institutions along El Prado. The crowds and event grew over the decades and, in 2002, it was renamed December Nights. But those of us that have been going to since it's inseption still call it Christmas on The Prado!
Each year, it signals the start of the festive season in San Diego, drawing families from all over the county to the heart of the city. It continues to be the largest free community event in San Diego.
If you drive, be prepared to wait for a parking space, as lots fill up quickly. The only free parking lot is at the San Diego Zoo. Otherwise, paid parking options will be offered at the Natural History Museum lot ($25 per car), the South Carousel lot ($25 per car) and the Inspiration Point parking lot ($20 per car).
Free shuttle rides to Christmas on The Prado will also be offered. More information will be released closer to the event date.
The San Diego Metropolitan Transit System will offer its trolley and bus services around Balboa Park.