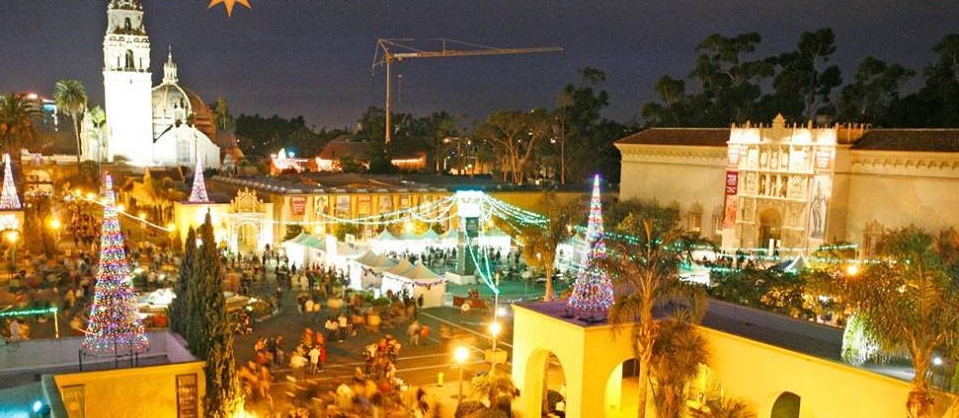 Fri Dec 4, 3-11pm & Sat Dec 5, noon-11pm
Potentially danceable bands:
Friday December 4
4:00-4:40pm 32nd St Brass Band @ Palisades Stage (by the Automotive Museum and Hall of Champions)
All the rest are at the Bon Temps Social Club / Gator by the Bay stage in the Plaza de Panama by the Museum of Art:
5:00-6:20pm Bubba McCoy
6:40-8:10 Sue Palmer
8:30-10:00 Bayou Brothers
Saturday December 5
12:00-12:50pm Rhythm and the Method
1:10-2:10 Flipside Burners
2:30-3:30 San Diego Cajun Playboys
3:50-5:00 Three Chord Justice
5:20-6:30 Euphoria Brass Band
6:50-8:10 Billy Lee & the Swamp Critters
8:30-10:00 Theo and the Zydeco Patrol
Traffic and parking will be a mess. See the traffic section on the event site for parking and shuttle info.
Further info: http://www.balboapark.org/decembernights/
Full schedule: http://www.balboapark.org/decembernights/entertainment
Balboa Park Christmas On The Prado, the nation's premier holiday festival, will take place for the 38th consecutive year on Friday, Dec. 4, 3-11pm, and Saturday, Dec. 5, noon-11pm. As always, the event brings families and friends together to spread holiday joy, learn more about the cultural value of Balboa Park and kick-off the "most wonderful time of the year."
Participating Balboa Park museums open their doors free of charge from 5-9 pm both evenings and more than 350,000 visitors are expected to experience the joy of San Diego's largest free community festival. Those who attend will participate in a truly multicultural experience, enjoying food, music and entertainment from around the world.
Revelers can watch top-notch musical and dance performances, enjoy delicious and diverse food choices and help spread a heavy dose of holiday cheer. Some of the more well-known traditions include food from around the globe at the International Christmas Festival at the House of Pacific Relations Cottages; the annual Santa Lucia Procession at the Plaza de California; unique gift shopping at the museum stores and with the artisans of Spanish Village; and musical and dance presentations from the San Diego Junior Theatre, San Diego Civic Youth Ballet, Del Cerro Baptist's Christmas Story Tree, and more.
**NEW THIS YEAR!! Children's Interactive Area including a dynamic Community Mural where families can creatively contribute to giant-sized coloring book page featuring Balboa Park. Following December Nights, the Community Mural will then be on display in the Park throughout the holiday season! The Children's Interactive Area will also include hands-on crafts, games, and entertainment and will be located adjacent to the beautiful and historic Botanical Building.