J2 Welcomes Joey This Wednesday to Bings!
Janet Hammer and Jay Berman are pleased to have world class jazz guitarist Joey Carano join us in the beautiful Bing Crosby Piano Lounge this coming Wednesday Feb 3
from 6 – 9 PM.
Technically that converts J2 into J3  for the evening and we like the ring of that.
We've both had the privilege of working with Joey since he was a teen age prodigy. He's truly a major talent on the jazz scene, and you don't want to miss him!
As usual, a great lounge menu and creative drinks at Happy Hour prices until 7 PM, never a cover charge for the music, free parking, and atmosphere that Bing himself would have wholeheartedly endorsed.
Bing Crosby's Restaurant and Piano Lounge is conveniently located in the Fashion Valley Mall just next to Bloomingdales right off Friars Rd.
You can go to http://www.bingcrosbysrestaurant.com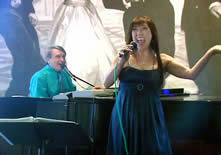 for further information about the place.
We're all going to have some fun this Wednesday
and hope you can join us,
Janet & Jay